Addressing
Faultless addressing for quick delivery
Our employees gladly ensure that every postal item arrives at the correct address as quickly as possible. To make this possible, you must write the full and correct address in clearly legible letters on the envelope.
Handy tools for the correct address
Handy tools for professional use
How do I write an address correctly?
An address consists of at least 3 and maximum 5 address lines:
Name of person or company
Extra details such as attn
Street name and house number, possibly followed by the word 'box' and the box number.
Postcode and city
Country (only for foreign addresses)
Place a space between the postcode and the municipality. Write the city in capital letters.
Where do I write the address?
Write the recipient's address on the front of the envelope, in the address box. Write the address parallel to the longest side of the envelope and align it on the left.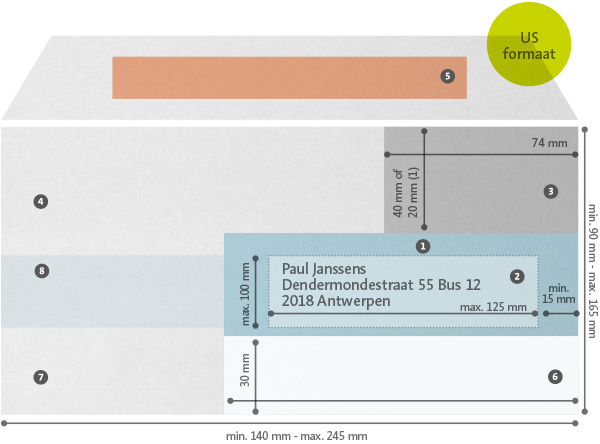 Zone for the recipient's address box
Recipient address box
Franking and cancelling zone
Free zone for the sender
Return address zone (verso)
Indexation zone: zone used by the sorting machine to print a barcode : must stay free or white
Semi-free zones for the sender (no text which can be confused with an address)
Write the return address on the back flap of the envelope. If it is not possible to write it on the back, then write it on the front in smaller letters than the forwarding address, horizontal in the upper left corner or vertical on the left edge.


Maybe you may have one of the following questions